I bought this top this weekend and got to wear it downtown for all of an hour when my stomach hurt too much and cut into my funtime plans. My boyfriend said it looks like it belongs to Dave Coulier but what does he know? My camera cut out before I could take a detail pic of my Nancy Sinatra shit kickers. Next time.
shirt: thrifted, leggings: AA, boots: thrifted, $5
I also found this amazing dress while thrifting: parachute, and half gothic and half preppy, with the prim shoulders and button back, and sweeping skirt. Ignore my little noodle of hair that got in the way, such is my luck!
dress, thrifted, $3.95
Is it wrong that I am dying to go to the hockey game my bf is taking me to in December, so I can try out my own version of this: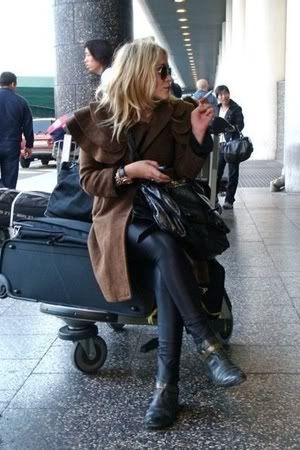 Ugh I am literally drooling. Her tiny little feet in those perfect little shoes. I sound like a foot fetishist over here. Do you suppose that coat is Montana?
And since it wouldn't be a Gothic Preppy post without ebay buys, this weekend's purchase:
Flapper wedding dress, I am obsessed. Look at the puffy hips! I hope it fits