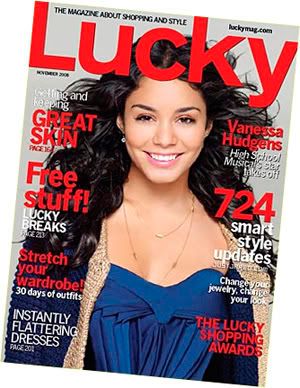 I am jumping on the Lucky List bandwagon spearheaded by
Sara Millionaire
, since I love
Lucky
despite its sometimes, uh, flowery prose, and because of those little sticky tabs, which are God's gift to man and which I use for everything from noting stuff in other books and magazines, to reminding myself which parts of my dog have yet to be petted. On with the list!
Lucky List
by
Lux Interior
Shu Uemura shampoo (Sham-Shu?), $40. Because I'm WORTH IT! The accompanying conditioner is $50. For that kind of money it had better be made of Nancy Sinatra piss and human tears.
Pssst Volume and Color Dry Shampoo. This is more my speed, since the Bumble and bumble colored dry shampoo is woefully expensive, and because any other dry shampoo looks like a baking accident in my inky inky hair. Except Ojon. But their nozzle clogs.
Mara Hoffmann blanket cape; this is the sort of thing I would put on and never take off. Picture this with those jeans and some fresh white leather ankle boots!
Alexander Wang full-zip jeans. The naughty nadir of the exposed zipper trend. I would wear these except I would be afraid of drunken frat guys unzipping me from behind.
Lorick dress. I don't know Gossip Girl from Adam, but if it encourages a trend toward skinny silhouettes for the mass market, I'M FOR IT.
Swatch "Splendious" watch. I don't wear watches. I would wear this watch.
Savon de Marseille soap; I have such an affection for hand-washing things, I guess because I only hand-wash my delicates and don't have to do it for everything every day. With this soap I could tie a bandanna around my hair and sing "Frere Jacques" while I wash my undies.