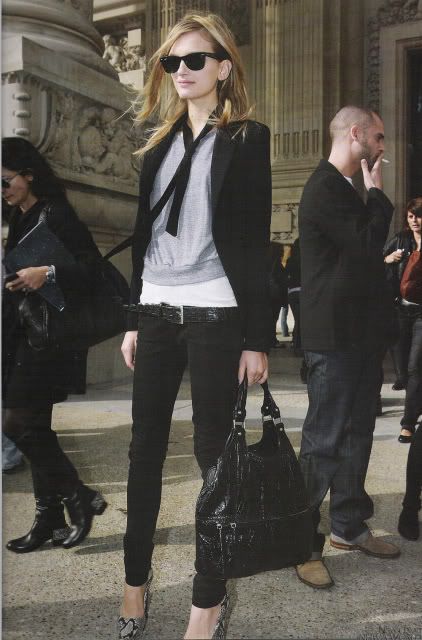 have you ever seen so perfect an outfit? i was wondering what to wear out tonight and now i know:
black jacket: YES, a 40s one with a peplum that i have never worn. tonight's the night
tie: NO, still too Avril for these parts
gray sweatshirt: YES from Zara, a million years ago
wife beater: of course
belt: NO I'm not really what you would call a
belt person
and indeed, my plumber's butt is well documented amongst friends, family and coworkers
jeans: YES, j brand 910s
snake shoes: YES, ancient Prada slingbacks from A/W 2000
tote: NO because I get my boyfriend to hold my money and things when we go out
glasses: NO because you shouldn't wear glasses in the night-time, although it is the easiest way to determine who is a douchebag and who isn't. Also my head is too wide for Wayfarers.
PUBLIC SERVICE ANNOUNCEMENT: Lean Cuisine 'Tortilla Crusted Fish' has that certain
je ne sais quoi
that really defines a designer lunch. Really though it's delicious.