So there I was, day after Christmas at Saks (day after day after Christmas actually), checking the clearance rack for the extra 60% off tenderness and maybe hoping to score a plain t-shirt for $10 or something. But then a ray of light shined down on the Black Halo Jackie O dress, marked down from $345 to $55. XS, walk in the park, easy street. Just try it on.
And wouldn't you know, it zipped up and over my booty, my incongruously big hips. And stopped at my tiny tiny bustline. Go no further, the zipper would. So I had to leave my heart behind on the Saks rack, waiting for some no-hipped socialite goddess to plunder for her very own. At least the saleslady told me I had a cute figure. Damn straight.
NOT me in the dress that is NOT MINE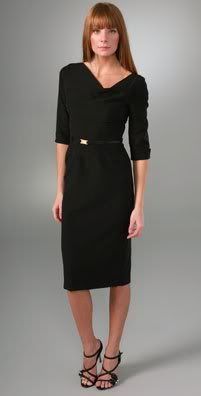 Like this one better, will bide my time
Do you ever feel like you're dressing wrong? Not that there's anything wrong with your personal style, but that maybe a 24 year old should be not wearing jeans and american eagle t-shirts in downtime. Especially since my take on spring style is going to be pinups of 1934 meets New Edition groupie: Long jersey skirts, zippers, plaid shirts...