This picture is a momentous day in Gothic Preppy history: the first time I asked someone to take a picture of me for my blog. Embarrassment!
Me: You know, if I wasn't so skeeved about it, I would ask you to take a picture of my outfit.
Boyfriend: Well, you asking me that probably means that you want me to take a picture of your outfit.
Me: Wouldja? (
pleading puppy-dog look
)
Boyfriend:
Heavy, put-upon sigh
scarf: ebay
dress: thrifted vintage
coat: thrifted vintage
belt: ebay
socks: Prada
shoes: Terry de Havilland via ebay
Ignore my stupid expression and/or the fact that I had to lighten the picture. This is what happens when you wear all black.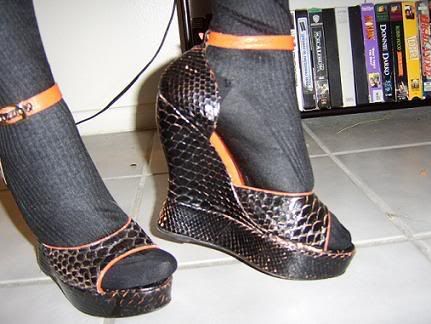 But hey everyone loves shoes and socks right? Except for the fact that as I clomped downtown, the sole began to come up! I had to walk extra pony-esque so I didn't just topple over. I think that lady lied about only having worn them once...