Good Evening
.
I'm Vampira and this is my boyfriend Dr. Herbert West.
I got my mom to tease my hair, and as she stepped back to admire her kraftwerk, she says, "You know, you kind of remind me of that vampire lady from the 50s. I don't
think
she's in
Plan 9
..." So mission accomplished.
Next year I'm just going to be Dale Gribble, all I'll have to do is smoke cigs and shout "sh-sh-SHA!" at inappropriate moments.
-I recieved my
epic parcel of magick
on Friday; as I was loosing my treasures from their brown paper prison, I noticed that there were other items within: a dove-gray peplumed (not a real word-
Ed.
) jacket, another with Tyrolean embroidered trim and devastatingly high armholes, two skirts with such tiny waists that I would have to have a ribectomy just to button them. I was gobsmacked and emailed the seller to make sure it hadn't been some horrible mixup. It wasn't, in fact, and in her infinite kindness, figured that someone who wanted some dresses would probably also want
a bunch more beautiful vintage clothes
. You will see the rest here eventually.
-And the shirt I am wearing with it is my Goodwill find; I saw a worker taking it off the rack, and I hedged my bets that it wasn't an Old Navy vintage wannabe and took it off her hands. "I was just about to throw that out," she said.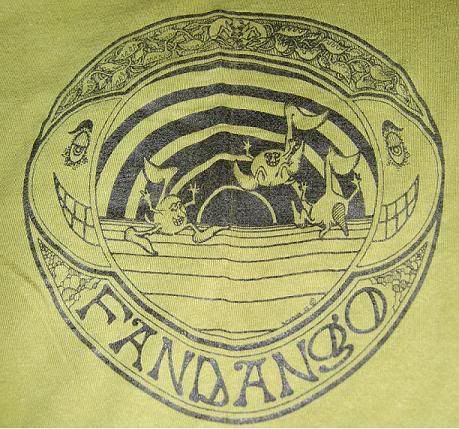 It has a copyright of 1972, making this the oldest t-shirt I've found thrifting by 15 years. What is Fandango?
-Sometimes I think I spend compulsively; sometimes I think that I'm the most special person in my life and deserve everything I want. I'm into instant gratification, looking nice and $7 toothpaste. Problem is, I need a car. (I need a license too but first things first.) So it is with heavy heart that I have to declare a moratorium on new (clothing, makeup, magazine, trinket) purchases, at least for these next few months. There will be no shortage of window shopping, lusting, coveting, posting or thrifting, I will just have to get creative with my vast wardrobe.