I've made it a mini micro mission to try and collect anything and everything vintage I can from any of the London designers of old: Granny Takes A Trip, I Was Lord Kitchener's Valet (hah yeah right), Jaeger, Biba, Mr. Freedom, Bill Gibb, Boy London, on down to Katherine Hamnett and Worlds End (again, yeah right). No one in America except us and Anna Wintour knows they even really exist, and so you can get some relatively decent deals on a lot of it (excepting maybe Biba due to the resurgence of the brand). My collection has grown today not by exponents but by a pair of
5"
snakeskin
TERRY DE HAVILLAND PLATFORMS FOR $102.50 ON EBAY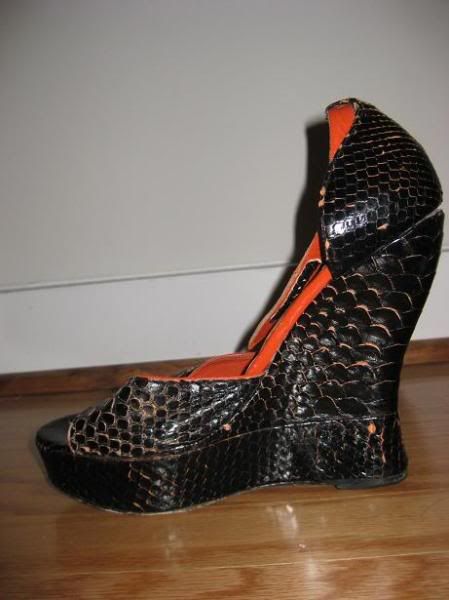 I will probably never wear them, just frame them in a shadowbox. Black and orange Halloween shoes!! Werewolves of London!! AWOOOO!
More for your perusal
I GUESS I KNOW WHO I'M GOING TO BE FOR HALLOWEEN THIS YEAR HUH