In stark contrast to the polished, Joan Crawfordy style I pretend to project, my someday home will be filled with finest cashmere blankets, gingham, distressed old furniture and all manner of bygone comforts.

I've been kind of obsessed with finding a dog lamp ever since I saw one on
Greatest American Dog
(I do talk about that show a lot, don't I?). Theirs was chalkware Lassie, mine will be a spaghetti poodle.
Back in the day, you could go to the movies every week and recieve a new piece of Depression glass, and drinking an egg cream out of a pink glass makes life so much more wholesome, doesn't it? These drawer pulls from Land of Nod won't give away the naughty knickers that lie inside your dresser.
I knew in my heart of hearts that a set such as this must exist, cos French people practically invented cooking, and I need a place to keep my
sucre
. Why are you $200-some-odd-dollars, French canister set of my dreams?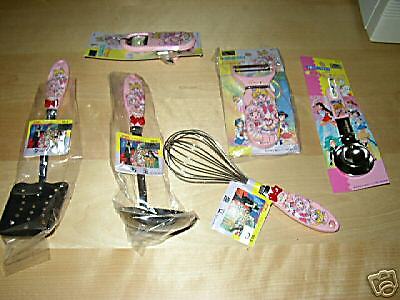 They will go great with my Sailor Moon kitchen utensils. Yes, I own these. Stop judging me!
I realize that a pink camera will not ameliorate society's ills, or my own ills, or my own crappy photo taking, but hello, it's pink. And not from Akihibara's trendiest electronics emporium, but from Target. TARGET! And you can draw on the screen with yo finger.
And what goes better with a pink camera than a charm of Kitty-chan riding a dolphin?
I got the Steve Madden thigh high boots in the mail, and I am really sad to have to return them. Plasticky leather and shoddy construction make them more suited to working on say a shrimp boat or in a restaurant kitchen. I guess it's all water under the bridge though, since it now frees up my funds to buy some Terry de Havillands...