Do you know
Nagel
? If you are reading this blog, you probably do, and if you've ever gotten your nails done at any number of cheapy beauty salons, you do. His devastatingly sexy (and really, when I was a young'in, I figured those Nagelesque Robert Palmer girls were the absolute toppermost of femininity and chic) ladies are now being led to their logical conclusion, with Nagel Leia: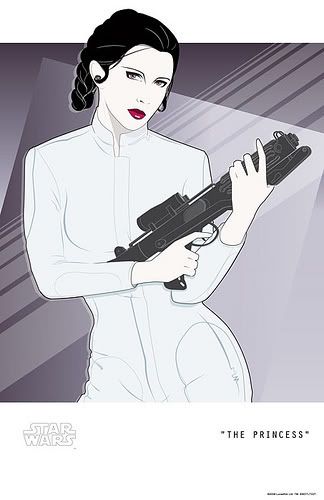 I have barely seen
Star Wars
(only the first half and then I went to bed), and between my boyfriend and me, we have three Nagels, but dammit I want this one too!
Comprar
aquí
.
After reading
this
on Art Brut(e), I have had in my mind's eye an Ikea filing cabinet used as a nightstand, with Thompson Twins stickers all over it. Because I am lame.
I am expecting some goodies in the mail; decants from
The Perfumed Court
: Costume National, Vivienne Westwood Boudoir, and (this is the one I'm most pumped about) Balmain Ambre Gris, as well as some hair stuff from
Mixed Chicks
so maybe I can get my mop under control. Also weekend pictures of a party bus that may or may not have a stripper pole. Stay tuned!