I would like to believe I'm pretty trendproof; I found a style (that is to say, all black, which on some people like beatniks and mimes is a style, and on others, like me, is not) that suits me, and I purchase according to it. I know if I buy a snake-print mini t-shirt dress with exposed zips, I will have a million things to wear it with at home.
Yes, really.
I know what I like, I don't deviate away from my own style, and following trends blindly makes the back of my throat itch. I am like one little fish swimming defiantly against a mainstream of
Gossip Girl
and Blackberry phones.
So I can't fathom how many countless soccer moms are queueing up for this BRAND NEW, LIMITED EDITION lip gloss from YSL in, of all colors, PUR BLACK:
From plum to ebony, it dresses lips in an infinite range of shades, depending on how it is applied – feather light or rich and bold. Transparent yet intense, it plays on the depths of black and the pure shine of a sparkle-free formula.
Personally I haven't applied anything to my lips more wild than red since middle school, when we slicked on navy from Sweet Georgia Brown (remember that line? I was ob-sessed), or metallic frosty powder blue from Hard Candy.
It is currently on pre-order, and now it seems, back-order, but my order is in. Will LBL be as perennial as the LBD?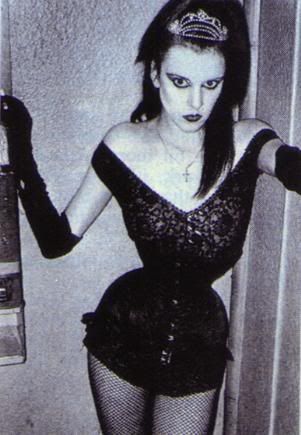 Buy YSL Gloss Pur Black
here
. If you give them your email, you get free shipping on your first order.
*And I believe this is a Blitz kid; these are the perils of saving things wantonly to your photobucket without saving descriptions!